Refresh your style with a handbag to carry you through the season from Bucket Bags, The Extra Elegant Belt Bag & Back to Black.
Bucket Bags
Charming the season with practicality & playfulness, make the Bucket Bag a go-to style from Fendi and Longchamp.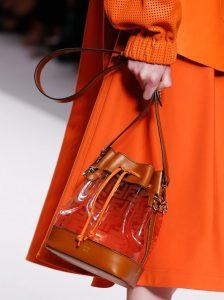 Where intricacies are revealed through a looking-glass transparency, Fendi's SS19 Collection takes inspiration from a utilitarian romance with deep mineral palettes of the natural world.
An elegant, streamlined bucket bag to be carried across the body or over the shoulder thanks to its adjustable shoulder strap. Longchamp's Pénélope Soft Bucket Bag combines Longchamp's leather good know-how and French elegance.
The Extra Elegant Belt Bags
Where a cross-body style meets the youth comes the Belt Bag. Take your pick on a minimalist style with Furla or maximalist print with Salvatore Ferragamo.
Keep things minimal with a sleek silhouette featuring grainy leather & gold metallic detailing of Furla's SS19 Collection Isola Belt Bag.
Pairing an innovative design with a classic iconic pattern, exude elegance in the Gancini Belt Bag from Salvatore Ferragamo's SS19 Collection.
Back to Black
When in doubt, take it Back to Black. Add a refreshing style & shape to the shade with Carolina Herrera's royal Victoria Insignia or a bold Bottega Veneta's woven The Pouch.
Show off your style with a versatile top-handle or over the shoulder look, Carolina Herrera's Victoria Insignia Satchel Bag features a flap detail replicating the House of Herrera's 35th Anniversary initials.
Soft & identically beautiful from within and out, The Velvet Calf Intrecciato Pouch is Bottega Venetta's Spring 2019 Collection Special! The oversized clutch features the brand's signature weave on extra soft calf skin.
Source:
https://www.vogue.co.uk/gallery/bag-trends-spring-summer-2019
https://www.vogue.fr/fashion/fashion-inspiration/diaporama/bag-trends-spring-summer-2019-fashion-week-new-york-milan-paris-london/53236