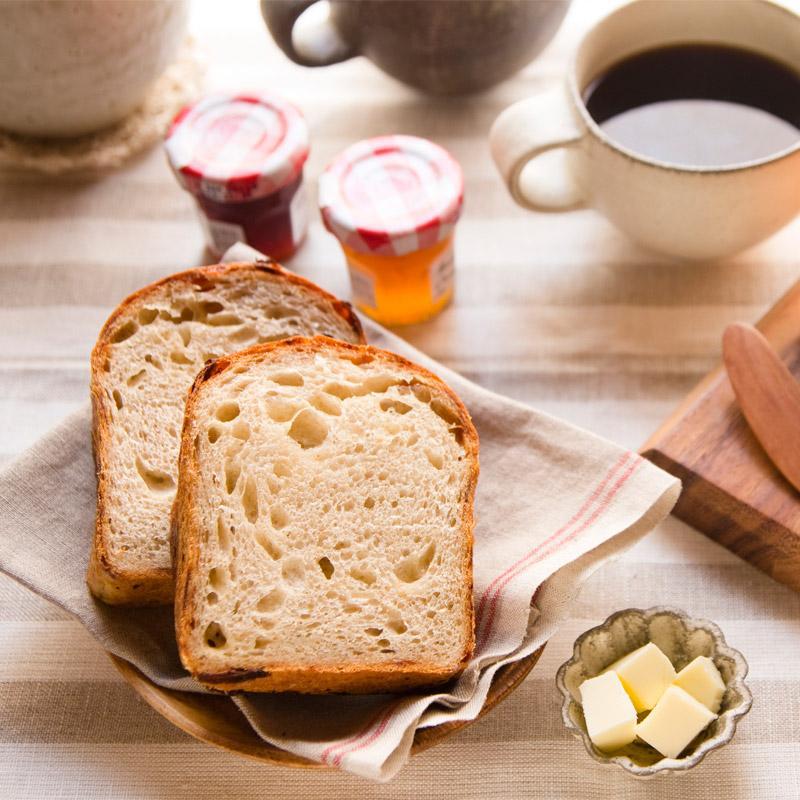 Say goodbye to boring breakfasts and hello delicious meals to get your day off to the right start! Here are recipes you'd want to try:
No Knead Bread
Ingredients:
300g bread flour
2.5g sugar
2.5g salt
2.5g instant yeast
230ml water
20ml olive oil
Methods:
In a large bowl combine bread flour, sugar, salt and instant yeast. Add water into the bowl and gently mix into a dough.
Cover dough with cling wrap and let the dough rest at least for 120 mins at room temperature.
Dough is ready when its surface is dotted with bubbles. Lightly wet a dough spatula with water and fold dough over on itself once or twice.
Lightly flour a work surface and place dough on it; gently and quickly shape dough into a ball.
Divide dough into 6 equal parts; again gently and quickly shape dough into 6 balls. Cover with cling wrap and let dough balls rest for 15 mins.
Generously dust a work surface with flour. Turn the dough out onto the flour, then roll the dough to a free-form square. Fold the top of the dough till the bottom, to make an elongated shape. Gently roll it for a nice finish
Line a baking sheet with parchment paper and generously drizzle with olive oil. Transfer the dough to the baking sheet. Let it rise for another 30 mins at room temperature.
Make a cut along the top of each dough and brush olive oil on top of the dough. Bake for 15 – 17 mins in a preheated 230 degrees oven. Leave on the rack to cool.
Japanese Egg Sandwich
Ingredients:
1 egg
2 whole grain bread, sliced
3 cheddar cheese, sliced
½ cup avocado, sliced
Sea salt
Methods:
Fry egg in a pan on one side; toast a slice of bread on the other side of the pan. Flip bread to the other side and add cheddar cheese on top till slightly melted. Set aside.
Lightly toast the other piece of bread. Arrange slices of avocado on bread. Place egg on top and sprinkle sea salt. Top sandwich with another slice of toast and serve.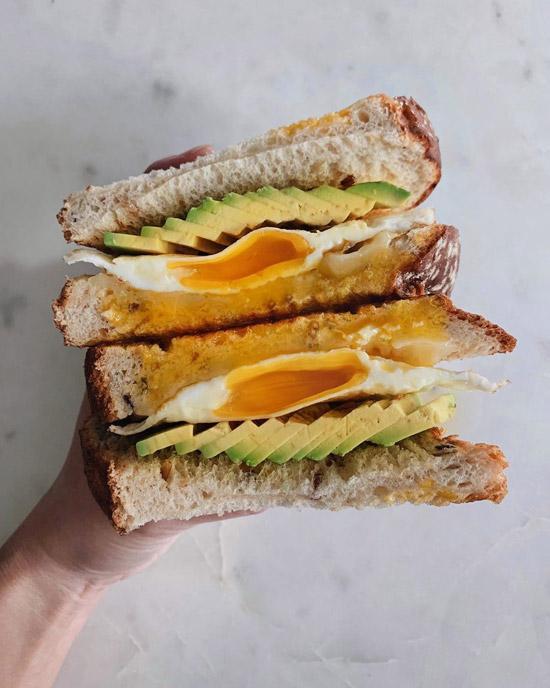 Breakfast Burrito
Ingredients:
2 tsps oil
¼ cup red onion
1 cup bell peppers, seeded and diced
3 eggs
1 tortilla wrap
1 tbsp mayonnaise
2 – 3 pieces lettuce
1 tomato, sliced
¼ cup cheddar cheese, shredded
Methods:
Heat oil in a nonstick pan over medium heat. Cook the onions and bell peppers until softened.
Add eggs, scrambling until cooked through together with onions and bell peppers. Set aside.
Spread tortilla wrap with mayonnaise. Layer with lettuce, tomato, scrambled eggs and cheddar cheese.
Roll up burrito-style and lightly toast on a hot pan before serving.
Fluffy Japanese Pancake
Ingredients:
2 large eggs, separate egg yolk and whites
3 tbsps milk
2 tbsps sugar
A pinch of salt
½ tsp vanilla essence
1 tbsp oil
½ cup all purpose flour
1 tsp baking powder
1tbsp sugar
1 tbsp icing sugar
Methods:
Whisk together the egg yolks, milk, sugar, salt, vanilla essence and oil in a large bowl.
Sift together all purpose flour and baking powder into the milk mixture. Mix well.
In a separate bowl, beat egg whites on medium speed. After two mins, add sugar and continue beating for another 2 – 3 mins until stiff peaks form.
Add the egg whites batter into the flour-milk batter in 3 parts. Do not overmix. Carefully fold the last part into the batter. Make sure not to break the air bubbles.
Grease the pan with oil over low heat. Pour 2- 3 spoons of batter. Wait for 2 mins before adding another spoon of batter. Cover the pan and cook for 5 mins. Carefully flip it over. Cover the pan and let it cook for another 5 mins.
Serve with a dust of icing sugar and your favorite fruits, syrup, whipped cream or ice cream.
Tom Yam Fried Mee Hoon
Ingredients:
200gm dried mee hoon
5 cloves garlic
1 onion, sliced
4 dried chillies, chopped
½ cup water
3 tbsps oil
3 tbsps Thai chilli paste
2 stalk lemongrass
2 large chicken fillet, diced
6 shrimp
1 carrot, julienned
3 kaffir lime leaves
2 tbsps oyster sauce
½ cup water
½ tsp salt
4 stalks mustard leaves, chopped
Methods:
Soak dried mee hoon in water for 30 mins.
Blend garlic, onion, dried chillies and water finely.
Heat oil in a pan over medium heat. Cook 3 tbsps of blended ingredients, Thai chilli paste and lemongrass till fragrant.
Add diced chicken fillet, shrimp, carrot, kaffir lime leaves, oyster sauce, water and salt. Let it simmer till cooked through.
Add softened mee hoon and mustard leaves. Toss lightly until mixed well. Serve hot.