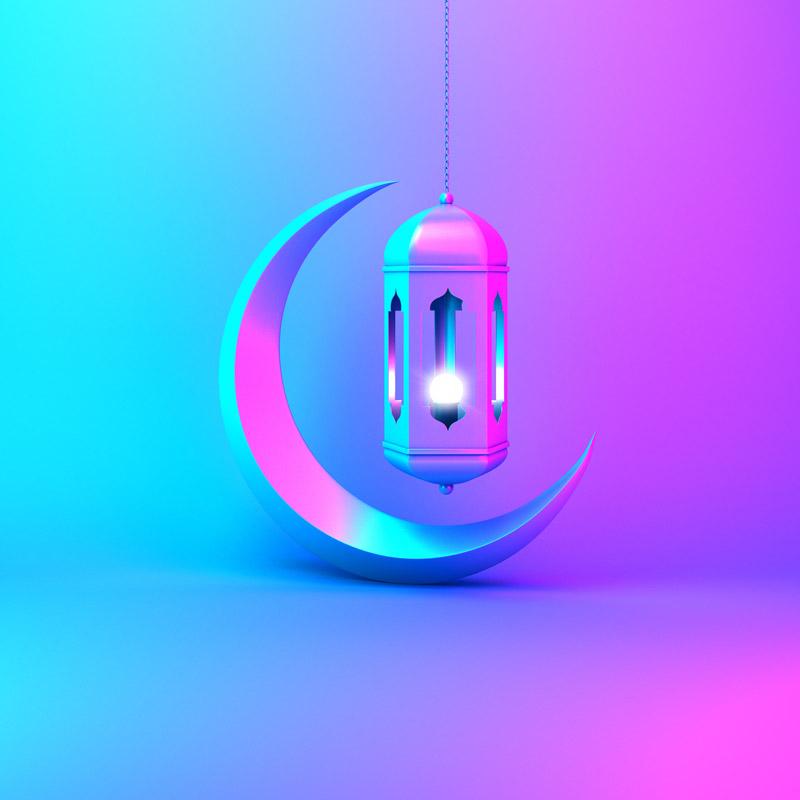 Bake Up A Batch of Cookies
Cookies are pretty much the best part of Raya and there's always a reason to whip up a batch of cookies during the festivities. Give this easy cookie recipe a go!
Ferrero Rocher da Bomb
Ingredients:
250g butter
150g caster sugar
1 egg, yolk only
50g bubble rice
100g almond powder
100g corn flour, sieved
300g flour, sieved
150g almond, chopped and roasted
1 egg white, beaten
250g cooking chocolate
Paper cups
Methods:
Line a baking sheet with parchment paper and spread some butter over the parchment paper. Set aside.
In a bowl, beat butter caster sugar and egg yolk till light and well mixed.
Add bubble rice and almond powder. Slowly add corn flour and flour alternately till it becomes a dough.
Form into small balls and coat with egg white. Then roll each ball with chopped almonds. Set the balls on the baking sheet and bake in a preheated oven at 180°C for about 20 – 25 minutes. 5. Meanwhile melt cooking chocolate in a double boiler. Once the biscuit balls have cooled, dip into the chocolate. Set them in the paper cups.
Credit @myresipi https://myresipi.com/recipes/ferrero-rocher-da-bomb
You can also serve up these delicious sweet treats together with your selection of cookies.
Godiva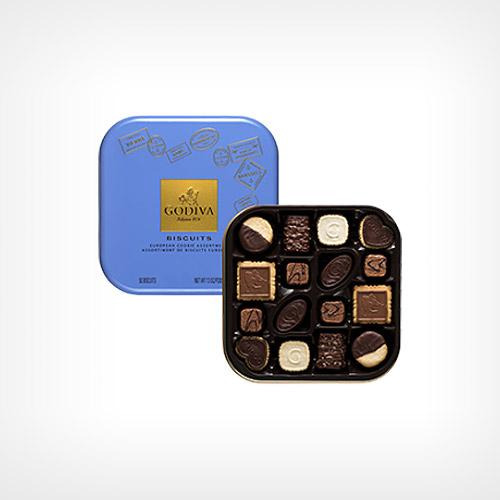 Deliciously indulgent, this Godiva Biscuits Tin Box (50 pcs) is more than just cookies. It is a luxurious assortment of premium biscuits enriched with indulgent chocolate, exquisitely crafted in the European tradition.
Famous Amos
Using only the best ingredients, like semi-sweet chocolate chips and flavourful nuts, these homemade tasting cookies from Famous Amos are loved by any true cookie lover. Add this Exclusive Raya Twin Pack featuring two variants of 300g and 200g to bring extra smiles to your family and friends.
Create Special Family Memories
1. Decorate the house with homemade paper lanterns for Raya that will make for a perfect wefie background! Easy and fun to make, these simple lanterns are sure to brighten up your home. Take a coloured paper and cut out according to a lantern pattern. Make several versions in different colours and string them up on to the walls of your home. You can also add paper flowers, star garland and moon shapes for a more festive feel. Check out the video link for the steps.
2. Always wanted to learn to cook rendang for the family? Capture that moment on video when you make the dish with this recipe!
Crispy Chicken Rendang
Ingredients:
½ kg chicken thighs
4 tbsps flour
4 tbsps cornflour
1 tbsp salt
5 tbsps cooking oil
Spice Paste:
2 inch galangal, sliced
2 inch ginger, sliced
1 lemongrass, sliced
10 shallots
1 clove garlic
Rendang Sauce:
2 ½ tbsps cili boh
1 cup coconut milk
2 tbsps kerisik
1 dried tamarind slice
1 tsp salt
1 tbsp palm sugar
½ turmeric leaf, sliced thinly
5 tbsps cooking oil
Methods:
Coat chicken thighs with flour, cornflour and salt. Fry till golden brown.
All the ingredients of the Spice Paste in a food processor. Blend well.
Heat oil in a pan. Stir fry the blended spice paste till fragrant.
Add coconut milk and mix well.
Add kerisik, tamarind slice, salt, palm sugar and turmeric leaf. Let it simmer.
Serve crispy chicken with rendang sauce.
3. After staying and cooking at home for weeks, you deserve a Raya feast from one of your favourite restaurants! While CMCO is still in place, you can opt for a dine in (do check beforehand if the restaurant of your choice allows a dine in) or have takeaway meals. For a full list of available dining options at Suria KLCC, head to www.suriaklcc.com/dining.
Its Raya Shopping Time
For a small festive get together with family, here's how to spend Raya in style.
Fendi Peekaboo Iconic Medium
Every fashionista loves a statement handbag, and this carryall – in an eye catching yellow leather, no less – brings a touch of luxe and sophistication to your wardrobe during this festive season. The Fendi Peekaboo Iconic Medium features two compartments divided by a stiff partition and twist lock on both sides. With a single handle and an adjustable, detachable shoulder strap, this is a bag you will be carrying all day, everyday come Raya.
De Beers Horizon Collection Hoop Earrings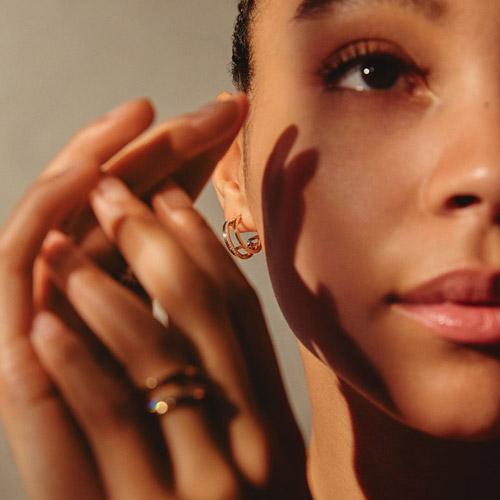 When it comes to an understated jewelry look, you can't go wrong with a beautifully crafted piece like the De Beers Horizon Collection Hoop Earrings to pair with your Raya outfit.. Playful and multifunctional in its design, the earrings are composed of a central micropavé band, which moves between two outer 18K rose gold bands. These inner bands are hand-set with round brilliant diamonds and add a sense of movement and subtle sparkle when worn.
Siti Khadijah Lifestyle
If you haven't decided on your Raya outfit this year, then pick one that is flattering yet understated. Take your cue from the Nostalgia Raya collection from Siti Khadijah Lifestyle that has a range of classic designs you can easily wear formally or casually! The collection features traditional silhouettes in breathable fabric to keep you looking stylish yet comfy all day.
Sofia Iman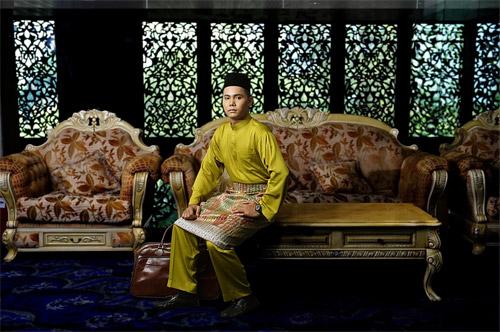 The Cekak Musang design on a Baju Melayu is a classic that needs little improvement as the designs from Sofia Iman shows. With its characteristic 5-button stand-up collar top tucked neatly under a kain sampin that goes around the waistline, all you need is to pick a favourite colour to match with the rest of the family!
Cotton On kids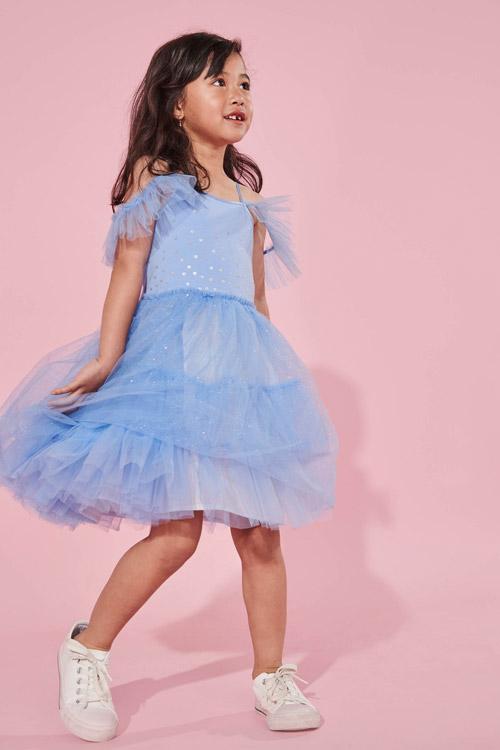 A pretty pastel dress with sequins and glitter is such a classic festive mix for little girls, but it never feels tired. Just look at this Iris Tulle Dress from Cotton On Kids. It features a fully-lined elastic gathered tulle skirt with a jersey fitted singlet top and is embellished differently to suit your little one's personality