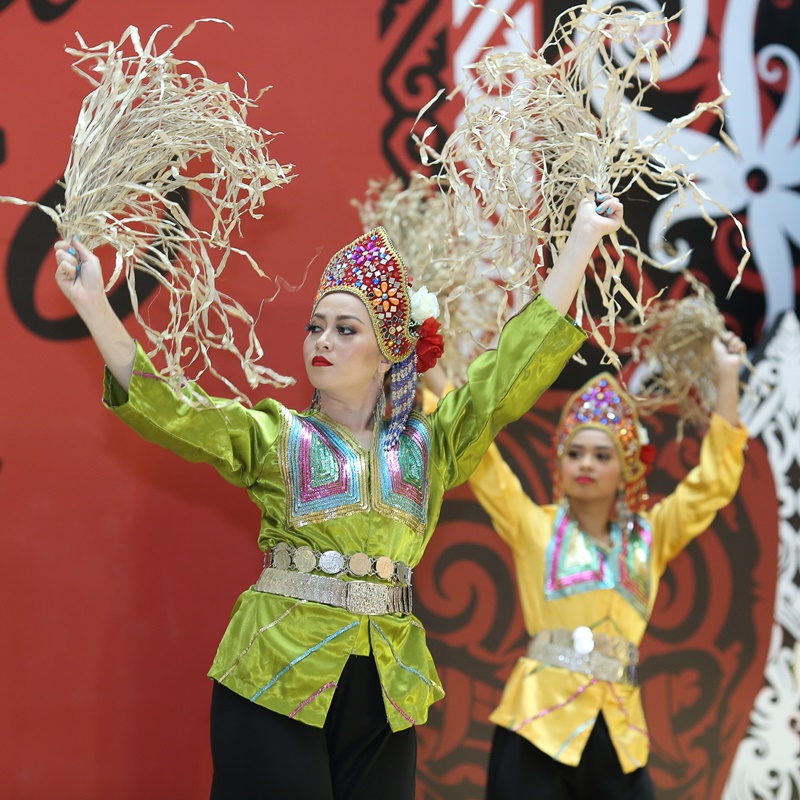 Join us at the International Borneo Fest 2019 from 12 – 14th June, a celebration of the exceptionality of Borneo arts & cultural diversity featuring traditional performances, beauty pageant, fashion show of Borneo designers' and exquisite food & hand-crafted products!
Discover Borneo with us at the International Borneo Fest launch on the 12th June at 5.30pm!
Performance
Experience a variety of ethnic thrilling performances and beautiful dances such as the Sumazau (Kadazan tribe), Brunsai (Bajau tribe), Mangunatip (Murut tribe), Sumundai (Rungus tribe), Ngajat (Iban tribe), Sumayau (Dusun tribe), Datun Julud (Dayak Kenya tribe), Langgie Pingadap (Bidayuh tribe).
*Programme: 12th, 13th & 14th June at 12.30pm.
Activities
Highlight activities include a beauty pageant to announce the Miss & Mister Ambassador of 2019 and the Borneo Designers Award, featuring 12 local designers. These exclusive collections are available for purchase, only at the International Borneo Fest. Other exciting line-ups you during the event, includes a basket weaving demonstration by the Penan Tribe.
Program:
Miss & Mister Ambassador Beauty Pageant – 13th June at 5.15pm
Basket Weaving Demonstration by Penan Tribe – 13th & 14th June at 1pm
For the gastronomical adventurers, join the "Sago worm" eating challenge! The "Sago worm" or known as "Butod" among the locals, are a high-protein and high-fat delicacy often consumed dried, smoked, grilled or stir-fried. A true connoisseur may try to eat it whilst it's still alive, often described as creamy like soft melted toffee without any foulness that may be associated with eating larva.
*Programme: 12th, 13th & 14th June at 4pm.
Bring home locally produced products from Sabah and Sarawak exclusively available during International Borneo Fest such as coffee, food, chilli paste, jewellery, bead crafts and clothes.
An event in collaboration with Sabah Tourism and Sarawak Tourism office, the event be will officiated by Minister of Tourism, Arts & Culture, YB Mohammadin bin Haji Ketapi.
*Entrance is free and open to public.