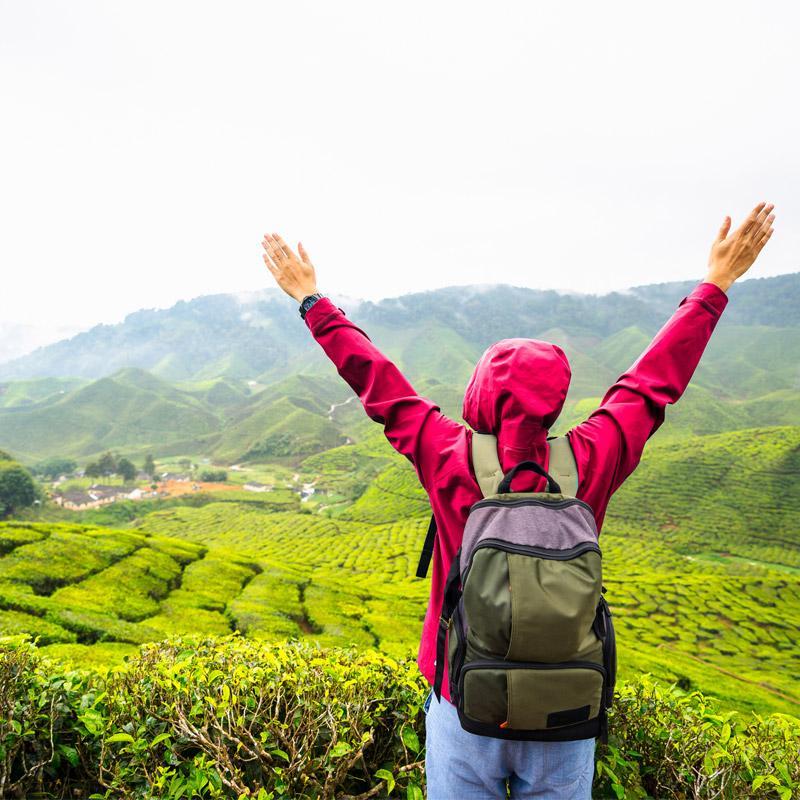 It's nice to get away to a place where there isn't a skyscraper in sight as you strap on your hiking boots to go on a gorgeous hike. Luckily, the Klang Valley is blessed with a number of great hikes and walks in close proximity. You can join other nature lovers to marvel at the beautiful sunrise view on top of Broga Hill. You'll also get a great view of the surrounding forest and farmland as well as the city skyline in the distance. To get your heart pumping, make your way to Bukit Sapu Tangan in Shah Alam. Largely a quiet and less crowded trail, the route passes by a picturesque lake where you will be able to snap photos before continuing on your hike.
Meanwhile, sitting on the edge of Selangor is Chiling Waterfall. It is one of the most spectacular waterfalls in the state where you will need to walk for about an hour and wade across the Chiling River several times before reaching the waterfall!
If you'd rather stay close to the city centre, prepare to pass through some tough trails when you tackle the highest point at Bukit Tabur where you will be rewarded with glorious views of the city. You can also head to Taman Tugu Forest Trail for an invigorating and educational hike amidst 40 acres of approximately 5km of lush forest trails. Just half an hour from the city centre lies the Forest Research Institute of Malaysia (FRIM), a world renowned centre for tropical forestry research with forest reserves filled with unique flora and fauna. You'll feel miles away from the city as you explore the area's popular nature trails and scenic tracks.
Once you've decided on your next outdoor adventure trail, keep in mind some of these essential hiking styles!
Functional Yet Stylish
Choosing your ideal outfit to wear on a hike can be challenging. After all, striking the right balance between fashion and function is not easy. Stay cool, comfortable, and chic in this Nike Fast Women's Shorts with its mid-thigh length that won't ride up when you go on a hike. Its stretchy and supportive design allows you to move freely while multiple pockets keep your essentials close.  Engineered to the exact specifications of trail runners, the Nike Rise 365 Men's Top is your go-to for soft, breathable comfort. It provides all-over sweat-wicking, while the zoned mesh enhances ventilation where you heat up. This top is made from 100% sustainable materials, using a blend of recycled polyester and organic cotton fabrics.
A Luxe Layer
Luxe-looking fabrics transform the everyday windbreaker from utilitarian to chic. Adidas Urban Wind.Rdy Jacket may look fancy, but it is wind and water-resistant as well as water-repellent and looks just as good with a denim miniskirt as it will with your favourite hiking outfit. The relaxed shape layers well and gives it a clean, modern look. You can easily pack the jacket into its own hand pocket and it has a stowaway hood for convenience. Channel vintage vibes with the Adidas Pleckgate Track Jacket, inspired by the Northern Soul movement during the 1970s. This track jacket takes a silhouette made famous in the stands and infuses it with a carefree attitude. A stand-up collar and a bonded zip bring tailored style to your outdoor look.
Pack It In
In order for you to carry your load comfortably and enjoy your hike outdoors, go for a chic backpack like the Under Armour Loudon Upstream Camo Backpack. Made from UA Storm technology that repels water without sacrificing breathability, this durable backpack has a spacious interior for all your needs. It is equipped with innovative features, including a large, zippered valuables pocket at the front, adjustable shoulder straps and a top grip handle.
Keep On Moving
Looking at the type of terrain you will be traveling on and the weight you will be carrying in your pack, it's good to consider shoes that offer support, durability and comfort. With Timberland Men's Parker Ridge Low Hiker with GORE-TEX® Membrane, the shoe is waterproof, windproof and breathable. The Gore-Tex fabrics allow perspiration and water vapour to escape so you stay dry and cool while remaining active. On rugged and uneven terrain, Timberland Women's Keeley Field Nellie helps protect your feet as it is built with SensorFlex™ technology for stability and comfort. It also features an eco-conscious fabric lining made from recycled plastic bottles.
Proper Sun Protection
For anyone who loves outdoor activities like hiking, protecting your skin from the sun's harmful rays is important. The latest Shiseido The Perfect Protector SPF50+ PA++++ is a lightweight protective sunscreen for the face and body that becomes more effective when it comes into contact with water, heat and perspiration; delivering the best coverage under the sun. Enriched with skincare ingredients to help prevent the appearance of fine lines, wrinkles and unevenness, your skin will feel moisturised and smooth after application.